16th August 2023
Partnership with public solar company largest deal yet for this Los Alamos startup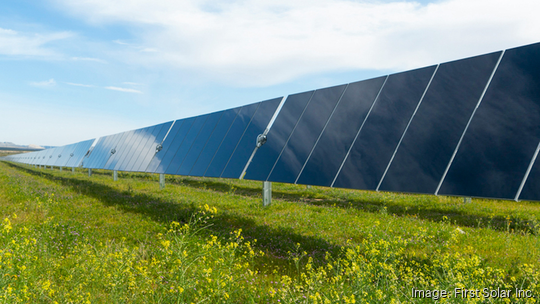 The joint development agreement between Los Alamos-based UbiQD and First Solar Inc., headquartered in Tempe, Arizona, represents the largest single deal for the New Mexico startup, its CEO told Albuquerque Business First.
Courtesy of UbiQD
Hunter McDaniel
sees big potential in New Mexico's growing solar industry for his nanotechnology startup, UbiQD. Striking a partnership deal with one of U.S.'s largest solar companies could be an important step toward realizing that potential, the startup's CEO said.
UbiQD
, based in Los Alamos, announced Tuesday it had formalized a joint development partnership with First Solar Inc. (Nasdaq: FSLR), a solar panel manufacturing company headquartered in Tempe, Arizona. That partnership will see the two companies build on existing work to incorporate some of UbiQD's quantum dot material technology into First Solar's photovoltaic (PV) module designs. Quantum dots — the tech from where UbiQD gets its name — are semiconductor nanoparticles used to optimize harvesting light across a range of color spectrums. The startup used that nanotechnology in greenhouse glass design under its UbiGro brand and, more recently, 
in anti-counterfeit security inks
. Working with First Solar marks an extension of quantum dots into PV cell applications, McDaniel told Albuquerque Business First. "If successful, this application in solar modules could be a perfect example of the broad applicability of our core technology," he said in a statement. "With emerging applications in food and energy, these novel nanomaterials are proving to be a key tool in humanity's urgent response to climate change and further sustainable economic development." McDaniel said UbiQD and First Solar have been working together since early 2022, when the CEO of a California-based startup introduced the two companies. Tuesday's announcement formalizes that work under a joint development agreement and paves the way for what he said could be a decade-long relationship between UbiQD and First Solar. The agreement also marks the largest single deal for UbiQD, which McDaniel founded in 2014. Although he declined to provide a specific number for the amount of money the Los Alamos startup would receive for its work under the agreement, he said the deal is worth upwards of $1 million for his company. That money would cover hiring, purchasing equipment and any design work under the agreement, McDaniel said. Inking the deal means that UbiQD can capture everything that comes out of a joint development partnership, like access to intellectual property and downstream customer rights. While the two companies had proven over the past year that using quantum dots in PV modules could bring benefits, the formal partnership will allow UbiQD and First Solar to refine the engineering and prepare to scale, McDaniel said. "As we work towards developing the next generation of photovoltaics, we are exploring a range of enhancements that could allow us to convert more sunlight into energy," 
Markus Gloeckler
, chief technology officer for First Solar, said in a statement. "We are interested in the potential use of quantum dots in optimizing the absorption of light and look forward to continuing our work with UbiQD on exploring this possibility." First Solar is one of the U.S.'s largest solar manufacturing companies, with a market cap of around $23 billion. It 
announced plans earlier this month
 for a $1.1 billion manufacturing facility in Louisiana, which could start operations in the first half of 2026 and increase the company's capacity by 3.5 gigawatts, according to 
a July 27 Securities and Exchange Commission filing
. But a series of third-party audits 
showed substandard labor practices
 at a First Solar facility in Malaysia, the Phoenix Business Journal, a sister publication, reported Tuesday. The company released those findings alongside its 
2023 Sustainability Report
its stock has dipped by over $4 at the time of publishing from opening at $199.30 Wednesday. Although First Solar has no manufacturing facilities in New Mexico, McDaniel said if the joint development partnership reaches marketability, UbiQD intends to build "a ton of manufacturing capacity" in the state. That capacity could join other recent solar manufacturing projects planned for the Land of Enchantment, like 
a $1 billion plant investment
at Mesa del Sol by Singapore-based Maxeon Solar Technologies Ltd. (Nasdaq: MAXN) announced Aug. 10. And working under the agreement could further grow UbiQD's solar-related markets. McDaniel said he sees the startup's work in agriculture — like sunlight optimization for greenhouses using luminescent films — and solar, including solar windows, being split 50/50 in terms of revenue and employee count in the coming years if the joint development partnership progresses well. McDaniel said UbiQD expects to hire four to five people in the fourth quarter of 2024 alongside other growth for the startup, including launching a next-generation greenhouse film product and building out some facility upgrades at its Los Alamos headquarters. The company has 28 full-time employees currently and was 
recognized as the "Best Overall Venture"
at the 2023 National Renewable Energy Laboratory Industry Growth Forum in May. Read the original article
here
.